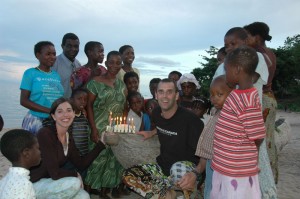 Julie Schneiderman and Benjamin Sternthal came up with the idea for "Kulam" while celebrating Hanukkah in a small fishing village on the shores of Lake Malawi in December 2008. Kulam is a Hebrew word that means "everybody, every person, everyone". Benjamin is a real estate developer who has spent more than a month each year over the past decade back-packing in the developing world. He was looking for a meaningful way to give back. Julie is a communications expert working for a global pharmaceutical company. She had previously been working in the area of HIV/AIDS putting projects together off the corner of her desk- from bringing Ethiopian and Israeli doctors to Canada to taking a team of Canadian surgeons to East Africa. In Malawi the couple decided that it was time to harness their energy, unite forces (literally- they even got married not too long after!), and formalize their international development efforts into one focused and sustainable initiative.
What We Do
We strive to create meaningful and tangible positive change by focusing on education, health care and clean drinking water. We believe in developing and executing projects globally in a timely and efficient manner. We do this by working in partnership with experienced organizations who are established on the ground in developing countries. Together we work to understand the real needs of local communities in order to develop the right strategies to implement the right projects. We seek out unmet needs, review project plans or help to develop new ones. All while raising the necessary capital to take the plans into action. We then monitor the projects every step of the way until completion and after completion to ensure long term success and overall sustainability.
We are currently working on a number of sustainable development projects in Ethiopia and Rwanda. Click below to learn more.